Alien Spelunking Showdown
A downloadable game for Windows
A little "remake" of one of my favourite games from the 80's. O'Riley's Mine on the Atari 800 was a cracking little game and one that I've brought back to life here in a strange sort of way.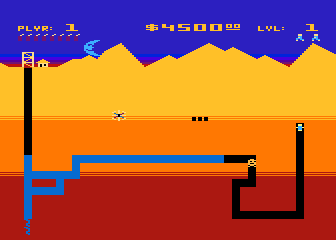 http://www.atarimania.com/game-atari-400-800-xl-xe-o-riley-s-mine_3821.html

Alien Spelunking Showdown came about as part of a small RetroRemakes competition: http://lounge.punchingrobots.club/viewtopic.php?f=2&t=1062
The name had to be chosen from a random game name generator, and some of the graphics (ok, quite a lot of) had to be from some random sprite generators.
After some playing around with ideas this game started to take form. The black and white aesthetic is a throwback to my early days when all I had to play games on was a black and white TV.
I've made it available on itch.io for anybody to play, but I would encourage you to try the original Atari 8bit game.
If enough people request it then I'll add a "Colour TV" mode to the game but otherwise, this is it. Enjoy :)
Download
Click download now to get access to the following files: